Anti Spam Services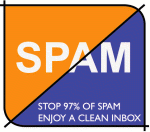 BENEFITS
Stop upto 97% of spam
Maintenance free
No Software/ Hardware Installation
Huge savings in bandwidth costs
Can scale from few users to thousands
Platform independent
Geographically dispersed users can be serviced too
Web front end for administration
Complete helpdesk support for switchover to OwnMail
Register Now
"Stop Spam"
As if being called all day by credit card companies was not enough, there has been an exponential increase in the amount of spam received in our Inbox. Ownmail's latest anti spam offering aims at preventing such unsolicited messages from reaching your network.
The reason for increasing spam is the cheap bandwidth available in and lax laws of many countries. The amount of spam received varies with the age of your email address; if you have an address say 5 years old, an astonishing 80 - 95 % of email received may be spam.

To detect spam, we use a software called SpamAssassin, which we believe to be the most effective. It uses a scoring system described ahead. Your messages are scanned & filtered using this software on our anti spam system stopping upto 97% of spam. As with other Ownmail services, you do not need a server at your premises, nor technical help. It can be used stand-alone, i.e in conjunction with your present email service.
Scanning process
It looks for words and phrases in the email message as well as a number of signs that are typical of spam.
It looks for the same that are typically not of spam, assigning a negative score for such signs
It uses a world-wide collaboration system, where information about spam is shared in real time.
Each message is given a cumulative score based on this analysis. The higher the score, the more likely it is to be spam. Those who are technically inclined click on this
link
to SpamAssassin's site.
Process of subscription
To subscribe to this service, you must set your mail pointer to point to our anti-spam servers. Scanned mail is then forwarded to your existing mail system. We give you complete support in the switchover.
Please note
Please dont expect a 100% rate of catching spam. Whether an email message is unsolicited or not is a subjective decision that is difficult for a software program to make. The "Strict" setting in your spam options page should give you about 97% probability of catching spam.
Please experiment with your strictness settings in your options --> spam control page to change the effectiveness of the spam system. The problem with the strict setting is that for some users it may mark legitimate email as spam. Those that work in the finance industry may especially face this problem. You can mark some people in your "whitelist" option that will allow mail from them to come through the spam check.
The effectiveness of the spam filtering will vary with time, as spammers are well funded and are always trying to outwit spam control software. Our worldwide collaboration system is intended to share information on new techniques employed by spammers and quickly put into place systems to block them.
For existing users of OwnMail email services, your system administrator should have subscribed to spam checking to allow you to use it.
Cost
The service is available under plan OM120, in which there is a rent of Rs120 per month, and bandwidth charges of Rs0.10 per MB. There are no installation, registration or minimum charges. It is a pre paid service. Closing balances in your account earn a monthly incentive. This works like interest paid by a bank, except that it is applied as a discount to current month's usage. This incentive makes it cheaper to pay for a quarter or a year in advance.
Sign-up
Click here
to get a sales person to contact you about this offer